The world of dealerships offers an exciting opportunity for entrepreneurs to connect customers with products and services they desire. As a dealer, you play a vital role in bridging the gap between manufacturers and consumers, creating value through your expertise and network. Whether you're interested in automotive, electronics, fashion, or any other industry, mastering the art of dealerships can lead to significant success. In this guide, we will explore the best ideas and strategies to help you excel as a dealer. From building strong relationships with suppliers and understanding market trends to effective marketing techniques and providing exceptional customer experiences, we will provide valuable insights and tips to enhance your dealership business. Join us as we delve into the world of dealerships and unlock the secrets to becoming a master dealer.
Over the last few years, the dealership industry has undergone significant changes. Most small business owners and retailers start by acquiring certain dealerships. When a company or person is permitted to sell a specific product by the owner of a brand, that arrangement is called a dealership. You can select a dealership business from a variety of options based on your preferences.
Here we'll look at some of the best dealership business ideas in India that are less risky than other types of businesses.
So, let's get started!
What Is A Dealership Business?
Any store can be considered a dealership business if they're approved to sell specific goods. Dealers are people who purchase goods from a manufacturer and sell them to customers. Some dealerships deal in brand-new products while others deal in pre-owned products. The word dealership has been monopolized by the automotive industry, but these aren't the only type of dealerships.
Every dealership has deals in different goods, their sizes range drastically. One thing that's common about every dealership is that they're allowed to sell products from all brands. Let's take an example of a gadget dealership. A dealership is allowed to sell Apple iPhones as well as Samsung smartphones.
At its core, a dealer plays the role of a middleman between the manufacturer/existing owner and the customer.
Pros and Cons of The Dealership Business
Pros
Large customer base: Dealerships have a large customer base as there is always demand for vehicles and related services.
Strong brand recognition: Dealerships are often associated with well-known automotive brands, which can increase their credibility and reputation.
Revenue streams: In addition to vehicle sales, dealerships can generate revenue from financing, insurance, and service and repair work.
Manufacturer support: The business often receives support from the manufacturer, such as training, marketing, and access to new models.
Opportunities for growth: Dealerships can expand their operations by opening new locations or offering additional services.
Cons
High startup costs: Starting a dealership can be expensive due to the cost of inventory, equipment, and facility.
Intense competition: Dealerships face stiff competition from other dealerships and online retailers.
High overhead costs: They have ongoing expenses such as rent, utilities, insurance, and staff salaries, which can be significant.
Dependence on the manufacturer: Dealerships are reliant on the manufacturer for inventory and support, which can limit their flexibility.
Inventory risk: They carry a lot of inventory, which can become obsolete or lose value quickly if not sold in a timely manner.
How Can You Start The Dealership Business In India?
To start the dealership business in India, you should follow the following steps:
Decide on the type of dealership you want to start: There are different types of dealerships such as automobile dealerships, electronics dealerships, clothing dealerships, etc. Choose the type of dealership you are interested in and have knowledge of.
Choose a location: Select a location that is easily accessible and has good visibility. You can choose a location near a market or commercial area.
Obtain licenses and permits: Contact the local authority to obtain the necessary licenses and permits required to start a dealership. You may need to get a trade license, GST Number, VAT registration, and other necessary permits.
Decide on the suppliers: Identify the suppliers of the products you will sell. Contact them and establish a relationship with them.
Arrange the finances: Determine the amount of money you need to start the dealership. You may need to get a loan or funding from investors.
Hire employees: Hire employees who have the necessary skills and knowledge to work in a dealership. Hire a manager who can oversee the operations of the dealership.
Market the dealership: Promote the dealership through advertising and marketing. You can use different channels such as social media, print media, and billboards to market the dealership.
"Starting a dealership business in India can be a challenging task. However, with proper planning and execution, you can build a successful dealership business."
How Am I Going To Get To The Dealership?
If you want to get a dealership in India, you have many options. However, there are several things to consider when looking for a dealership. Here are some of the following steps that are discussed by Shalooka and that one should keep in mind while getting a dealership:
Make a business plan for your dealership.
Establishing a dealership business plan is the first step in organizing your company's future. A dealership's business plan is a useful tool for figuring out how much money and resources will be needed to launch the firm, as well as how those resources will be allocated, managed, and operated.
Companies have different needs, which means that their business plans will be unique. Gather as much information as you can on the field your business will operate in.
Distinguish your dealer
After choosing the business and making a strategy, the next step is to distinguish your dealer. It is fundamental to distinguish them admirably and look at their legitimate papers to check the business activities of the seller. Similarly, you can check the business's work permit and licenses for security confirmations.
Dealership Agreement
A dealership contract is a next step. The terms and conditions of the business are laid out in a dealership contract. It includes information such as the dealer's name, restrictions, and purpose.
However, one can create a dealership contract with the type of business in mind. It assists a buyer in understanding the business's constraints, processes, and guidelines. The two players consent to the arrangement after understanding it.
Start the business
An entrepreneur can start the dealership business in the wake of the agreement. The owner can sell the products online or offline, depending on their needs and preferences.
On the other hand, you can use social media platforms for advertising and business promotion. It will assist you with developing your business all the more rapidly.
How Can You Grow Your Dealership Business?
For example, we take the example of a car dealership business here. How will you grow your car or other dealership businesses? Here are some steps to be taken.
1. Identify your target audience: The first step in growing your dealership business is to identify your target audience. Determine the type of cars they are interested in and tailor your marketing efforts to reach them.
2. Develop a strong online presence: Nowadays, most people research cars online before they make a purchase. Therefore, it is essential to have a strong online presence to reach potential customers. Create a user-friendly website with high-quality images and relevant information.
3. Leverage social media platforms: Social media platforms such as Facebook, Twitter, and Instagram can help you reach a broader audience. Post pictures and videos of your cars, engage with your followers, and run targeted advertising campaigns.
4. Offer financing options: Most people cannot afford to pay for a car in cash. Offering financing options can help attract potential customers who are looking for a car loan. Partner with lending institutions to offer attractive financing options to your customers.
5. Provide excellent customer service: Customer satisfaction is crucial in the dealership business. Provide excellent customer service, and you are likely to get referrals from satisfied customers.
6. Respond promptly to customer inquiries: Be honest, and provide all the information they need to make an informed decision.
7. Host events and promotions: Hosting events and promotions can help attract new customers to your dealership. You can offer discounts, organize test drives, and host car shows.
8. Expand your inventory: Expanding your inventory can help you attract a broader audience. Offer a variety of cars in different price ranges to cater to different customers' needs.
9. Partner with other businesses: Partnering with businesses can help you reach a broader audience. For example, you can partner with car rental companies, insurance companies, and repair shops to attract potential customers.
In a nutshell, growing your dealership business requires identifying your target audience, developing a strong online presence, leveraging social media platforms, offering financing options, providing excellent customer service, hosting events and promotions, expanding your inventory, and partnering with other businesses.
What Are Some Of The Most Successful Dealership Business Ideas?
Some of the most successful and best dealership business ideas in India are as follows:
Note: The franchise costs, and required investment to commence the mentioned-below dealership business may change from time to time. We have given the values in approx. so that you can have know-how how much to invest in starting.
| | | | |
| --- | --- | --- | --- |
| Business | Required Investment | Required Space | Franchise Fee |
| Automotive Distributorship | 60 Lakhs | over 400 sq. m | 60 Lakhs |
| Food Distribution Enterprise | 2 to 5 Lakhs | 1000 sq. ft. | 40 Lakhs |
| Organic Food Distributors | 2 to 5 Lakhs | 500 sq. ft. | 1.5 Lakhs |
| Health Care and Beauty Products | 1 to 2 Lakhs | 150 sq. ft. | Minimum 3 Lakhs |
| Furniture Distributorship | 10 to 12 Lakhs | 2000 to 2500 sq. ft. | around 4 Lakhs |
| Sports Items | 30 to 50 Lakhs | 1000 sq. ft. | approx. 1 to 2 Crore |
| Industrial Supply | 2 to 5 Lakhs | N/A | 50,000 to 2 Lakhs |
| Pharmaceuticals | 50 to 70 Lakhs | 10 sq. m | 20 to 50 Lakhs |
| Agricultural Machinery Dealerships | minimum 50 Lakhs | 1000 to 1200 sq. ft. | 80 to 90 Lakhs |
| Home Appliance and Electronics | 5 to 20 Lakhs | at least 300 sq. ft. | 10 to 20 Lakhs |
1. Business of automotive distributorship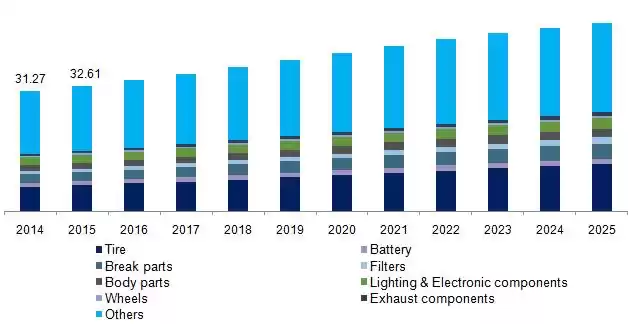 Wholesale & distribution automotive aftermarket report, 2025
Source: Grand View Research
The automotive market in India was worth $100 billion in 2021 and is projected to be worth $160 billion in 2027, growing at a compound annual growth rate (CAGR) of 8.1% throughout the forecast period (2022-2027).
Source: mordorintelligence.com
It's common for prospective entrepreneurs to consider entering the vehicle distribution industry. You can legally sell things like bike gear and auto components. You should be conversant with the workings of retail outlets selling vehicle parts and accessories. One of the best business plans is selling motorcycles and car parts.
However, the country is also home to a number of renowned and prosperous car retailers like the Hero Moto Corporation, MRF Tires, Maruti Suzuki, BSA Cycles, Bajaj, and others. For this reason, one might reasonably assume that operating a car dealership will bring in a profit.
Required Investment: 60 Lakhs
Required Space: over 400-meter square
Franchise fee: 60 Lakhs
2. Food distribution enterprise
In 2023, the food industry is projected to earn $963.60 billion in revenue. Annual market expansion is forecasted to reach 7.23%. (CAGR 2023-2027). Bread & Cereal Products will be the largest market sector in 2023, with a volume of US$173.90bn.
Source: statista.com
The demand for food has always been strong and will remain high as long as it is required. The acquisition of a dealership in a wide variety of food items, including groceries, snacks, drinks, and bakery goods, makes starting a business as a food and beverage distributor particularly advantageous.
Required Investment: 2 to 5 Lakh
Required Space: 1000 Sq. ft.
Franchise fee: 40 Lakhs
3. Business Opportunities for Distributors of Organic Food
In 2022, the organic food market in India was worth USD $1238 million, thanks in large part to the growing awareness of the benefits of eating organically. With the government's help, the industry is projected to expand even further between 2023 and 2028, expanding at a compound annual growth rate (CAGR) of 22 percent.
Source: expertmarketresearch.com
Organic food consumption is increasing, and business is booming in this sector. It is a phenomenal opportunity to get into the dissemination of natural food varieties.
With the right location and an investment of between Rs 2 and 5 lakhs, one can even launch a dealership franchise. You can obtain authorization for particular brands and incorporate the products in your store to run a successful dealership business.
Required Investment: 2 to 5 Lakh
Required Space: 500 square feet
Franchise Fees: 1.5 Lakhs
4. Health Care and Beauty Products
India's market for BPCs (beauty and personal care) ranks eighth in the world. The cosmetics industry as a whole, including perfumes, makeup, and men's grooming, is predicted to expand at a compound annual growth rate (CAGR) of 12-16%. By 2023, India's personal hygiene business might be worth $15 billion.
Source: investindia.gov.in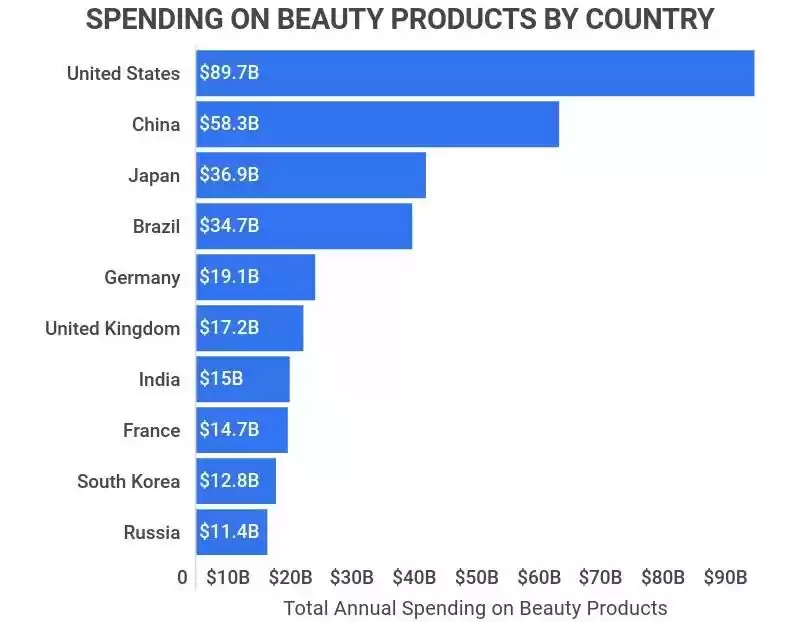 Source: Zippia
A business offering products for well-being and beauty can likewise be sent off. One of those modest but productive business ideas needs little startup cash. Moreover, you can track down sellers and merchants of different excellence and well-being items, including doctor-prescribed drugs, beauty care products, explicit brands, individual consideration, and medical service items, and from there, the sky's the limit.
By showing notable items, your organization's showroom can succeed. You can utilize it to assist your business in producing more income. A locally established business selling well-being and excellence items is another choice.
Required Investment: 1 to 2 Lakh
Required Space: 150 sq. ft.
Franchise fee: Minimum 3 Lakh
5. Furniture distributorship business
In 2023, the Furniture industry is expected to earn $5.33 billion in revenue. It is predicted that the market will expand by 8.27% each year (CAGR 2023-2027). With an expected $1.75 billion in sales by 2023, home furnishings will be the industry's most lucrative niche.
Source: statista.com
The distribution of furniture is a fantastic choice for a dealership business. You can choose specific household items and focus on characteristics that an individual may particularly desire.
It is one of the most up-to-date business ideas that anyone could hope to find in India. However, you can choose portable, lightweight, adaptable, and stylish furniture based on the needs of your customers.
Additionally, you have a huge range of dealership business ideas to look over, including those in furniture, materials, food, well-being, excellent items, and different products.
Required Investment: 10 to 12 lakh
Required Space: 2000 to 2500 sq. ft.
Franchise fee: around 4 lakhs
6. Sports Items
At an annual growth rate (CAGR) of 8.4%, the global market for sporting and athletic goods went from $165.28 billion in 2022 to $179.1 billion in 2023.
(source: thebusinessresearchcompany.com)
As a games item dealer, you can sell a wide range of items, such as outdoor and indoor game equipment, diversionary and fishing items, and, surprisingly, instruments. Nonetheless, ensure that you start with a couple of classifications if you are a fledgling.
Required Investment: 30 to 50 Lakh
Required Space: 1000 sq. ft.
Franchise fee: approx. 1 to 2 Crore
7. Industrial Supply
From USD 7.74 trillion in 2022, the worldwide industrial distribution market is expected to grow at a CAGR of 4.4% to reach roughly USD 10.92 trillion in 2030.
(Source: precendenceresearch.com)
Industrial supply dealerships specialize in providing products such as electrical motors, valves, pumps, and pipes to a variety of industries and businesses. This type of business allows entrepreneurs to become agents of the manufacturer and requires minimal investment upfront.
However, this business is usually capital-intensive and profits depend heavily on the availability of buyers, making it a risky venture.
Required Investment: 2 to 5 Lakh
Required Space: N/A
Franchise fee: 50 thousand to 2 Lakh
8. Pharmaceuticals
By 2024, India's pharmaceutical market is projected to be worth $65 billion, and by 2030, it's projected to be worth $130 billion. Presently, India's pharmaceutical market is about $50 billion.
Source: investindia.gov.in
Pharmaceutical dealerships have become increasingly commonplace in India owing to the growing demand for healthcare products. This dealership acts as an intermediary between the manufacturer and the end user, providing a viable business proposition for those looking to enter the market. If you want to enter this occupation, you must adhere to the strict regulations set by the government.
Required Investment: 50 to 70 Lakh
Required Space: 10 square meters
Franchise fee: 20 to 50 Lakh
9. Agricultural Machinery Dealerships
During the projection period of 2022–2030, the global agricultural and farm machinery market is expected to develop at a CAGR (compound annual growth rate) (CAGR) of 8.2%, from a projected USD 184 billion in 2021.
Source: precendenceresearch.com
Agricultural machineries such as tractors, plows, harvesters, and the like are in high demand in India, and so setting up a dealership for agricultural machinery can prove to be very profitable.
This type of business allows entrepreneurs to become agents for manufacturers of agricultural equipment and quickly create a market for the product. It includes expensive startup costs and the often finicky nature of agricultural machinery that requires constant maintenance.
Required Investment: minimum 50 Lakhs
Required Space: 1000 to 1200 sq. ft.
Franchise fee: 80 Lakh to 90 Lakh
10. Home Appliance and Electronics
In 2023, the market for consumer electronics will bring in US$1,103.00bn. The market is expected to grow by 2.17 percent each year (CAGR 2023-2027).
(Source: statista.com)
Home appliance and electronics dealerships offer a great opportunity to aspiring entrepreneurs looking to establish themselves in the Indian market. The products involved range from cell phones, TVs, and washing machines to refrigerators, and the profits to be made are often very attractive.
The downside of this type of business is the highly competitive nature of the market and the demanding nature of consumers expecting quality products at cheap prices.
Required Investment: 50 to 20 Lakh
Required Space: at least 300 sq. ft.
Franchise fee: 10 to 20 Lakh
The Final Word
In the unlikely event that you're a business visionary hoping to launch a showroom, you can continue to try these well-liked and cutting-edge business ideas. Without a doubt, it is among the best companies to launch, particularly in India. You can grow your business as it succeeds and earn profits on top of that.
Moreover, in this blog, we at Shalooka have discussed the10 best dealership business ideas in India.
Frequently Asked Questions
Q1. Is the dealership business beneficial?
Ans: One can view dealership businesses as productive compared with other independent companies. Beginning a showroom business extends the business's reach and client base.
Additionally, it builds the income and benefits of the business. The interest in marked garments, cards, IT items, and other marked things is high. It makes it a beneficial business thought.
Q2. What is the best business for a dealership?
Ans: Some of the most profitable and best dealership businesses ideas in India are as follows:
Automobile Dealership Enterprise
Food distribution business
Organic Food Distributorship
Businesses selling health and beauty products
Business of selling jewelry
Business of selling furniture
Q3. How do you start a dealership?
Ans: We've identified five effective marketing strategies that assist the brands with which we work in strengthening their dealer/distributor relationships:
Get to know your target audience.
Maintain regular communication.
Provide education and training.
Create helpful tools.
Request feedback
Q4: What is the cheapest dealership business to start in India?
Ans: You can start a variety of low-investment dealership businesses. For example, you can own Giani's, Rocking Deals, Bright Kids, Fanusta Global, Thanos Natural Ice Cream, and other franchises.
Reference Links: